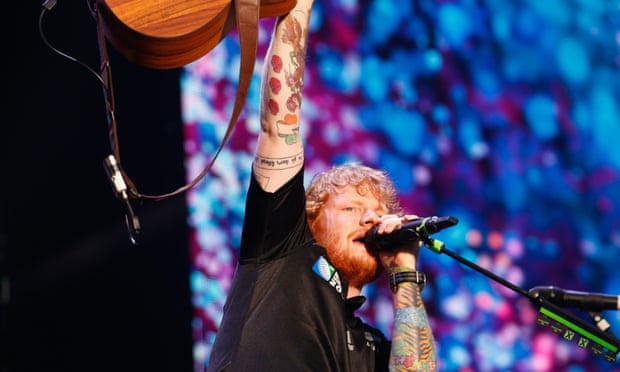 #AceMediaNews – Dec.13: With 16 million Twitter followers and 5.5 million subscribers on Instagram, he is one of the most avidly monitored British celebrities on social media. But Ed Sheeran has decided to shun "seeing the world through a screen", and announced that he is quitting all social media until next autumn at least.
The singer broke the news on Instagram, but apparently will not be in a position to read the tens of thousands of comments: he claims that he is even giving up his phone. Sheeran announced his withdrawal from social media at the end of a world tour promoting his second album, X, saying that although he was travelling the world, he wasn't actually seeing it.
"I'm taking a break from my phone, emails and all social media for a while. I've had such an amazing ride over the last five years, but I find myself seeing the world through a screen and not my eyes, so I'm taking this opportunity of me not having to be anywhere or do anything to travel the world and see everything I missed."
Even his family and friends will not be hearing from him. "If you love me, you will understand me buggering off for a bit," he said.
He was careful to stress that this is a pause, not an end, to his showbiz career: "The third album is on its way and is the best thing I have made thus far. See you all next autumn, and thank you for being amazing."
Born in West Yorkshire in 1991 and brought up in Suffolk, Sheeran built his career on social media. He released his first recordings independently, then in 2011 scored multi-platinum sales for his first album, +, won the Ivor Novello best song award for the single The A Team, Brit for best male solo artist and best breakthrough artist in 2012, and this year another Ivor Novello and Brit for the second album.
In case anyone meets the redhead sitting in a cafe not looking at a smartphone screen, let him know that lowla8, and many many others, pleaded: "Take me with you."
Quitting social media is in danger of becoming fashionable. Essena O'Neill, an Australian teenager who had become an Instagram star with more than half a million followers, recently left, describing it as "contrived perfection made to get attention". At 18 she said she could make a good living recommending products to readers, but instead deleted more than 2,000 photographs, which she said "served no real purpose other than self-promotion". She posted that she was quitting all social media – "for me, personally, it consumed me. I wasn't living in a 3D world" – though it transpired she was actually launching a new website.
The comedian and author Stephen Fry is a serial social media quitter. Earlier this year he temporarily shut down his Twitter account, to the anguish of his nine million followers, announcing: "During that time I will be taking a holiday from Twitter and, with a few exceptions, not tweeting at all. "
Last March he shut down his Instagram account, which had 92,000 followers, with the words: "Newspapers, as ever, suck all the joy out of everything. Closing down. It was, briefly, fun. Bye."
Thanks for following as always appreciate every like, mention , reblog or #tweet also our newspaper is added with all our posts daily:
Breaking – Main News – Finance – World – Social – Food – History – Britain – Scotland – Friends – Authors – #Tweet – PC-Help – Newsroom – Chat – Shop & Share – Disability — more to come.